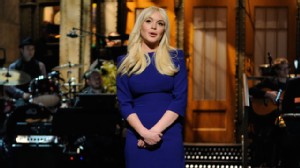 Courtesy:NBC
Lindsay Lohan
made a triumphant return to Saturday Night Live as she poked fun at her drug problems and run-ins with the law.
In the opening monologue, castmembers covertly tried to determine whether the Mean Girls star was under the influence. Keenan Thompson even shined a flashlight in her eyes to see if she was high.
Former SNL regular Jimmy Fallon then told Lohan, "Everybody makes mistakes but that doesn't mean you can't shake them off. You can do this - but if for any reason you can't, Jon Hamm's on standby as back-up host," before pointing out the Mad Men star in the audience.
Kristen Wiig also pulled Lohan in for a reassuring embrace, which turned into a full-body frisking - but she covered it up by insisting, "I'm a lesbian now!" to which the host quipped, "Been there, done that."
Further poking fun at her reputation, Lohan headed behind bars in another sketch to scare young delinquents straight by telling them that petty theft is a path that ends "in Malibu in rehab".
The actress was sentenced to 120 hours of community service and counseling sessions following a necklace theft conviction in early 2011, when she was already on probation for a 2007 DUI incident.
Lohan, who has hosted SNL three times before, previously said she hopes the TV appearance will help to restore her professional reputation, which nosedived after regular run-ins with the law and a series of stints in jail and rehab.